Campaign Import - CPC, CPA, CPL (Non-Lead Gen)
*The campaign default settings page must be setup before importing campaigns.* The file must be less than 4MB and include column headers.
The campaign import feature allows you to import any .csv file into LinkTrust and map the column headers in your file to the LinkTrust field names.
How to import campaign(s) into your account:
1. Create a .csv file with the campaign data you wish to import that is no larger than 4MB.

2. Go to the Campaigns > Add > Import from File.

3. Click on the Choose File button to upload your file into your account.

4. Map the columns in your file with the field values in LinkTrust or use LinkTrust system value. In the example below, the file column header "Offer Name" is being mapped to the "Campaign Name" in LinkTrust. In this case, the name of the campaign for the first row in the file will be "rectangular".
5. Some fields require additional mapping such as the "Campaign Type" field. This field requires that you use the system values of CPA, CPL and CPC from the drop down or you may map the field to a column in your file. If you map the field to a column in your file you are required to select the campaign type for each campaign field value in your file. In the example below, we used the "CampaignManagers" column name from the file and mapped it to the LinkTrust "Campaign Type" field. When this occurs a modal will open and display the column values from your file as well as the values that you are allowed to select to map them to in LinkTrust. The values from the file below for the "CampaignManagers" is 10011, 10012. This does not match the values required so you would have to map them to the values in the drop down which are CPA, CPL or CPC. All unique column values for each campaign will have to be mapped similarly.

6. When you have completed mapping your fields, click on the Import button to import your campaign(s) into your account.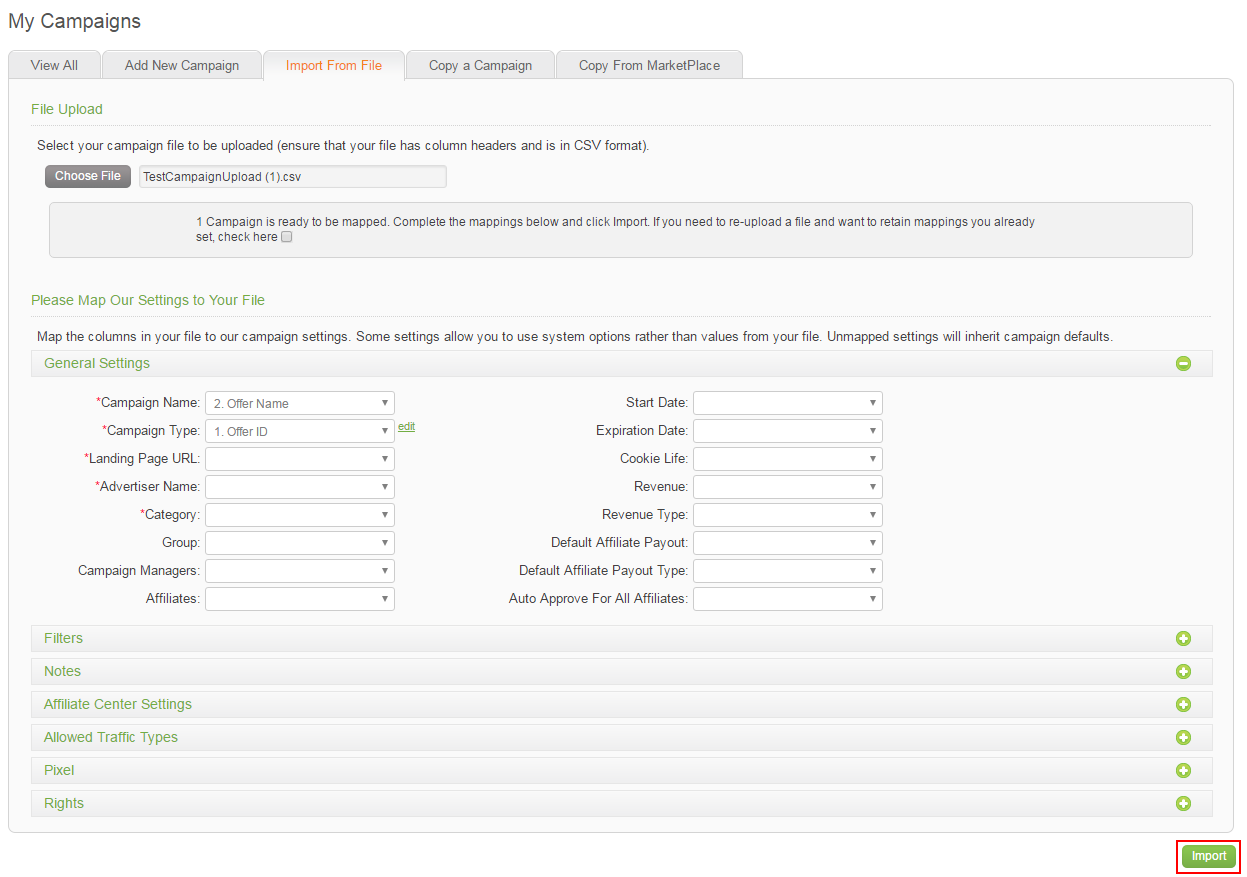 7. If you are in the process of importing a campaign and need to re-upload the file because you need to make changes or for any other reason, you can keep the mappings for the re-uploaded file. (Note- This only works when re-uploading the same file).

Fields
Download the LinkTrust field names here. You do not have to use the field names in your file but you will need to map them to the field names in LinkTrust. The campaign status is set to Testing for all campaigns that are imported.
You can request a demo to see LinkTrust up close and experience how it can help you, or start your free 14-day trial now.
Need help with this feature or have questions? You can contact our support team at support@linktrust.com