Use Case: Avoid cookie-less tracking or have accurate mobile tracking.
Server-side tracking is one of the most accurate ways to track your campaigns and offers. It's also one of the more technical ways to track your affiliate marketing. Many affiliate marketers use server-side tracking to manage their mobile traffic tracking or when they want their normal web traffic to be extra-accurate.
LinkTrust Feature: ClickID Pixel Postback
ClickID Pixel Post starts by adding the click ID to the tracking process. The click ID is a unique number associated with individual clicks. The click ID can be passed to the landing page or the advertiser's server. When it is passed back to LinkTrust on a post back URL, LinkTrust will use it to track the conversions without any need for a cookie.
This method is considered very secure, because a transaction can only be generated by using a click ID. Because the click ID can be used more than once, you can secure the click ID post by white listing the posting server's IP address.
The following is an example of a postback URL with the added click ID:
http://your_tracking_domain/pixel.track?&ClickID=04_835477_fb93f424-788d-4c48-bfb1-98516f855839
How do you add the ClickID to the landing page URL?
The click ID can be added to the landing page URL by adding the click ID token [=ClickID=] to the URL.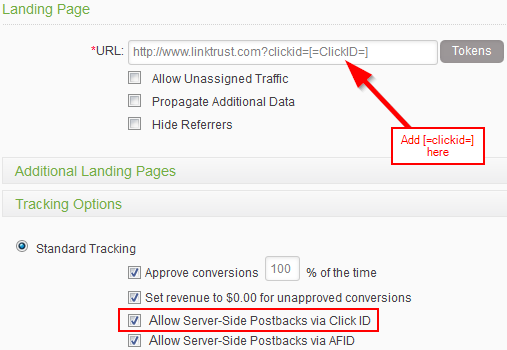 You can request a demo to see LinkTrust up close and experience how it can help you, or start your free 14-day trial now.
Need help with this feature or have questions? You can contact our support team at support@linktrust.com