Make a Payment, Modify Payment Methods, View Invoices and Payment History
You can find your billing information by going to the User Settings drop down and clicking on "Billing" or you can go to "My Account" and click on the "Billing" tab.
Subscriptions
Under Subscriptions you'll find your payment terms, status, billing amount, any discounts you may have received, and your total payment amount per term.
Current Payment Method
Displays the payment method you are currently using to pay for your LinkTrust licence.
Modify Payment Methods
You also have the ability to update your payment information at any time by clicking on "Change". From this screen you can add, edit, or delete payment methods.
To add a payment method select the Source from the drop down and fill out the form. To edit click the blue gear icon and to delete click the blue trash icon.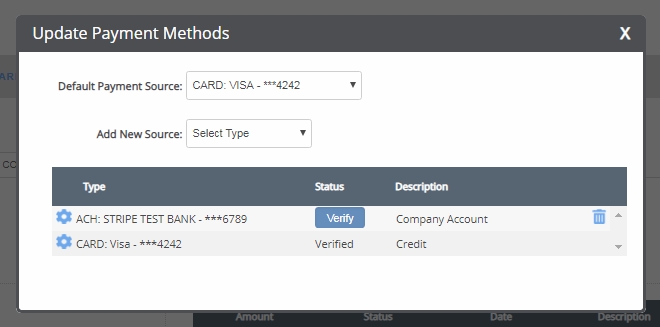 Automatic ACH Transfer
If you decide to use the automatic ACH method you'll need to send two micro transactions to verify and link your account. You can do this by selecting the blue "Verify" button after the payment method has been created. You will be asked to enter a first and second deposit. Do not use decimal points. The system already recognizes the values are in cents.

Keep in mind the micro deposits may take a few days, which you'll need to take this into consideration when updating your payment. You must have everything updated and verified BEFORE your next payment is due.
Wire Transfer
If you handle your payments through wire transfer, give the information displayed under "Receiving Account" to your bank. You MUST include the invoice number in order to tie the payment to the correct invoice.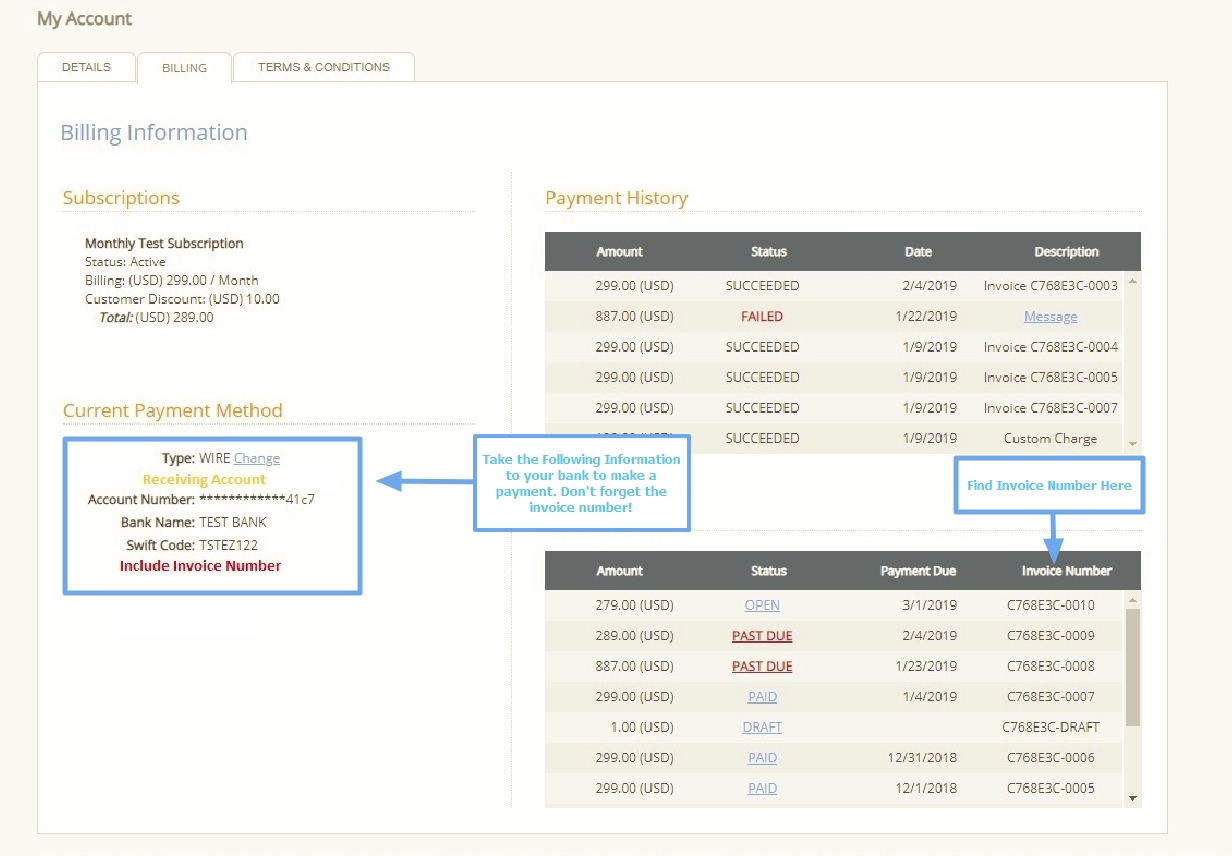 Payment History
The Payment History allows you to see basic information regarding all past payments. If there is a failed payment you can hover over the blue text "Message" to find out why the payment didn't go through.
Invoices
The invoices section shows allows you to view past and current invoices along with their payment amount, status, and date.
If you click on the "Paid" status you'll be taken to a page where you can download the invoice and receipt.
Click on the "Past Due" status to make a payment for that specific invoice.
If you pay with card you can submit the payment by entering the appropriate information and clicking "Pay Invoice".
If you prefer to use a bank transfer (Wire or ACH) click "Bank Transfer" and take the information below to your bank.
Once again, make sure you include the invoice number. This allows our system to link your payment to a specific invoice.
You can request a demo to see LinkTrust up close and experience how it can help you, or start your free 14-day trial now.
Need help with this feature or have questions? You can contact our support team at support@linktrust.com