Multi-Currency 'View in My Currency', API Parameter 'MTX' to Update Approval Date, Campaign Manager Tighter Restrictions
Multi-Currency 'View in My Currency'
When using Multiple Currencies, reporting stats can get complicated because of the nature of differing currency types - and the fact that you need accurate financials. But sometimes it helps to get an overall estimate of your financial performance; this feature provides that estimate by combining financial stats into a single currency.
Here's how it works: in the reports listed below, click the new 'View' button to rerun the report into a single default currency - with financial estimates based on current exchange rates. *Enterprise Plan Feature
Your account's default currency type is configured when you start using Multi-Currency.
Partner Center > Campaign Performance: View Financial Stats in Default Currency
Partner Center > Affiliate Performance: View Financial Stats in Default Currency
Partner Center > Advertiser Performance: View Financial Stats in Default Currency
Affiliates may configure their own default currency at their 'My Account' page when they log in.
Affiliate Center > Campaign Performance: View Financial Stats in Default Currency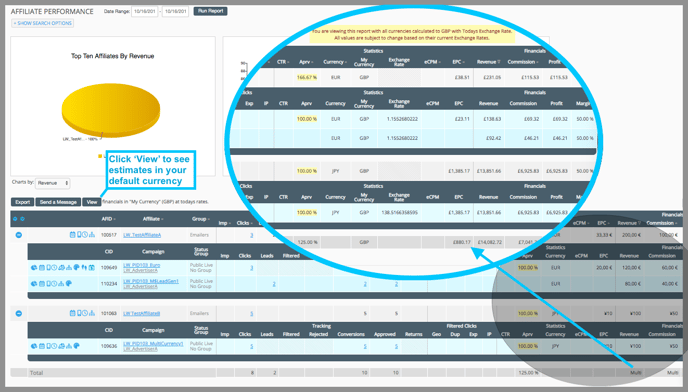 API Parameter 'MTX' to Update Approval Date
This NEW Transaction Modification API parameter 'MTX' converts an existing unapproved conversion transaction record into a new record that has its own approval date, referencing the original click date.
Campaign Manager Tighter Restrictions
1. Users with the 'Campaign Manager' radio button selected can only see their Assigned campaigns at the Campaign Search (Listing) page.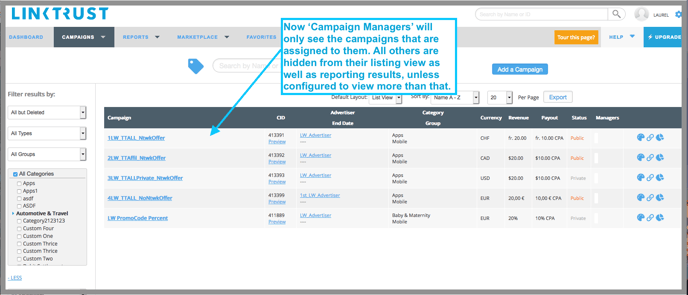 2. Here's a screenshot of the configuration page for the new 'Campaign Manager' including revised 'Campaign Rights' checkboxes.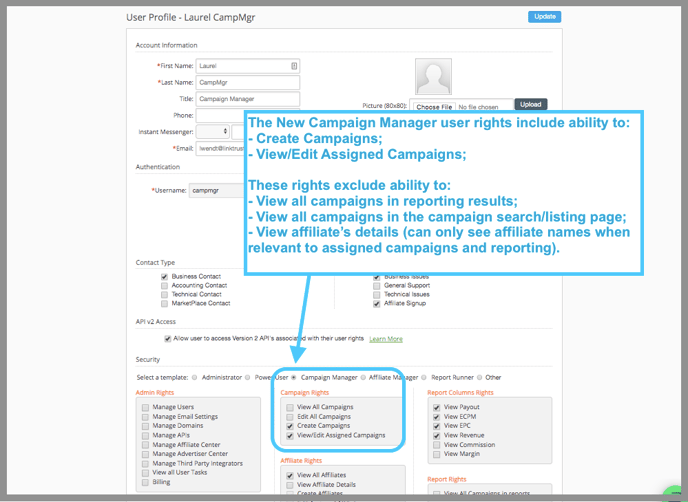 Auto-Unapprove When TotalSales is Less Than Minimum Amount
You can now configure a minimum TotalSales amount for CPA-type campaigns with either flat-value Revenue (e.g., $10) or percent-based Revenue (10%).
The control for this feature is called 'Unapprove conversion if Total Sale is below ___' and is located at the campaign Basic Details page under Tracking Options.
When a pixel URL's 'TotalSales' amount doesn't meet the minimum value, the conversion is auto-unapproved.
When viewing that transactions' details, you'll see an Approval Reason of 'Total Sale Minimum Not Met.'

Affiliate Signup Whitelist or Blacklist
To provide more security for Affiliate Signup pages, you can add either a whitelist or a blacklist of IP Addresses for your affiliate signups. See the Partner Center's Affiliate Center Customization page for this new textbox with radio buttons to choose between whitelist or blacklist. If no IP Addresses have been entered, there will be no filtering of Affiliate Signups.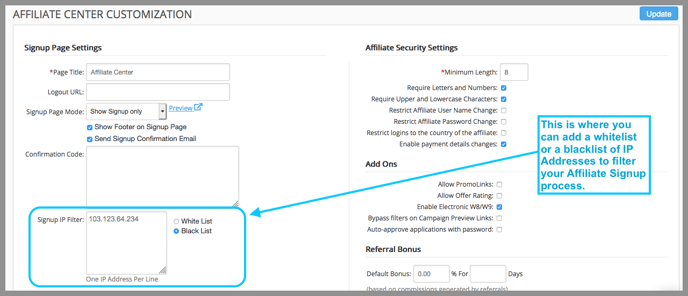 Email Suppression File Download Enforcement
Now you can require your affiliates to download your email suppression file on a periodic basis. Until they download it, they cannot access creatives and links when they log in to the Affiliate Center. You can override this requirement for specific affiliates assigned to a campaign.
Minor Feature Enhancements
Add Delete icon/option in the Affiliate's Pixel Modal
Adjustments View All Page Moved to New Framework
Bug Fixes
Sometimes Shortened URLs take you to File Not Found page
View Rights Tab Gives Error Page for Campaign Manager
Link Generator Gives Error Page for Campaign Manager
LeadListing's IP Address shows 0.0.0.0
Step Analytics: Unapproving a Step makes Issue with Commissions
Traffic Type Issue with AC Token New Campaigns & Featured Campaigns
Lead Listing Result Set Day Breakout is Not Displaying Correctly
Multi SubID Report Showing Error
You can request a demo to see LinkTrust up close and experience how it can help you, or start your free 14-day trial now.
Need help with this feature or have questions? You can contact our support team at support@linktrust.com