This page gives further information on any attempt to sell a lead. It can be found through the Lead Details and Attempt Details reports. The Lead Details report is opened when you click on the numbers under the Leads, Filtered, and Rejected columns in the Campaign Performance report. The Attempt Details will open if you click on the numbers under the Conversions or Approved columns.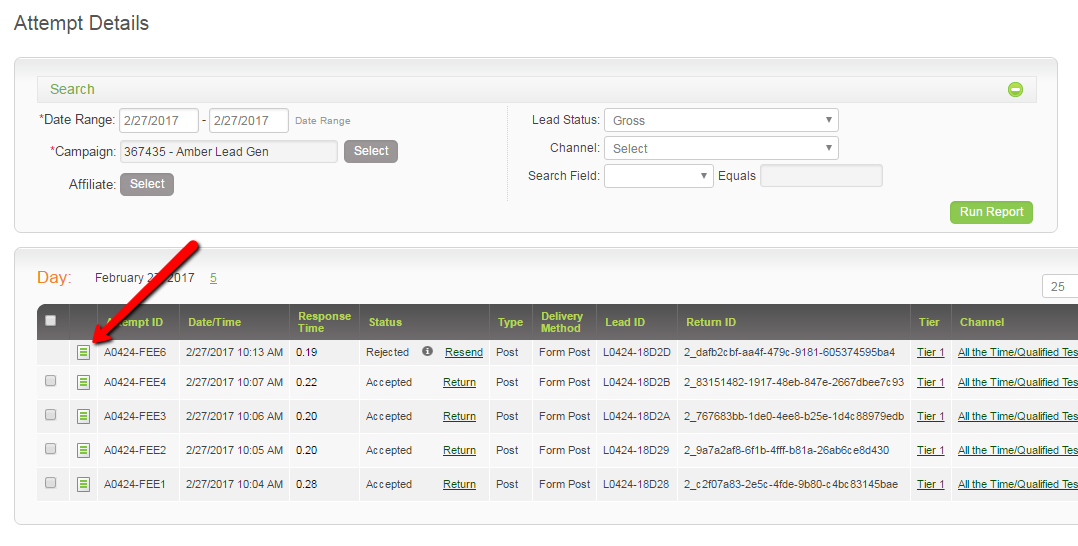 Attempt Status
Status
The attempt status will display the response from the channel. You can get a number of different statuses including:
Rejected by Rule: the lead does not meet the criteria specified in Channel Rules
Rejected by Error: an error has occurred
Rejected by Response: the advertiser sent back a rejection response
Accepted: the lead was accepted by the channel
Returned: you or the advertiser return the lead
Keyword
If a keyword from the channel's Response Settings was found in the advertiser's response, it will be displayed here. If there was no keyword, "*No keyword found" will be displayed.
You can make modifications to your channel response settings to configure how LinkTrust interprets responses from the advertiser by clicking the "Modify Channel Response Settings." For more information on Channel Response settings see: Channel Response.
Distribution Details
Advertiser - The advertiser set for this channel
Channel - Channel name and ID number
Attempt ID - System generated value for the attempt
Return ID - System generated value for the return
Error Details
If a lead is rejected, this section will list the reason for the lead rejection. For leads Rejected by Response, any Reason Rejected captured from the advertiser's response will be displayed. For leads Rejected by Error, this section displays the error. Some examples include failure to pass channel rules or alias failure. If the lead is accepted, this section doesn't appear.
Additional Data Found in Response
This section shows the data parsed from the advertiser's response. The following data can be captured:
Revenue
Advertiser Reference ID
Reason Rejected
Success URL
The Advertiser Reference ID and Reason Rejected are set in the Channel Response settings, and the Revenue is set in the Channel Settings.
Raw Response from Advertiser
This section shows the http response code that was returned from the advertiser. Under that is the exact response that the advertiser sent.
Alias Data Sent to Advertiser
The alias data name/value pairs that were sent to the advertiser are displayed here.
You can request a demo to see LinkTrust up close and experience how it can help you, or start your free 14-day trial now.
Need help with this feature or have questions? You can contact our support team at support@linktrust.com